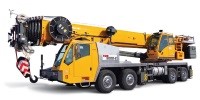 Manitowoc is excited to introduce the NEW Grove TMS9000-2 truck crane. This 100 t (115 USt) truck crane provides several outstanding features and advantages over competing truck cranes.
The TMS9000-2 will be announced to the global crane market on February 20th, 2017. The crane will be prominently featured in Manitowoc's stand (G3348) at CONEXPO 2017 in Las Vegas, Nevada from March 7-11, 2017.
 
Some of the outstanding features of the TMS9000-2 include:
• Longer reach, lighter crane – 27 ft. (8.2 m) longer boom than preceding model, but with LIGHTER GVW.
• Manitowoc Crane Control System (CCS) – Offers a user-friendly interface, two full graphic displays, ergonomic controls and a jog dial for easier navigation and data input
• Greaseless boom –reduced maintenance costs and labor time for the 36 – 169 ft. (11.2 m – 43.2 m) 6-section MEGAFORM boom.
• Modern cab features – carrier cab is outfitted with multifunction steering wheel, reversing and right side cameras.
• Best-in-class load charts.